Gaming Gets Better With Digicel+
Join for Faster Home Internet Speeds, Reliability + More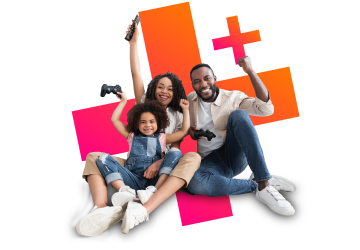 Digicel Home Fibre Internet Plan
Choose the best Fibre Internet plan for your digital life at home
FIBRE 250
DIGICEL+ HOME INTERNET WITH DISNEY+
EC$120
FIBRE 350
DIGICEL+ HOME INTERNET WITH DISNEY+
EC$175
FIBRE 500
DIGICEL+ HOME INTERNET WITH DISNEY+
EC $200
FIBRE 1000
DIGICEL+ HOME INTERNET WITH DISNEY+
EC $350
How to sign up for Digicel+
Lorem ipsum dolor sit amet, consectetur adipiscing elit, sed do eiusmod
Lorem ipsum dolor sit amet, consectetur adipiscing elit, sed do eiusmod
Lorem ipsum dolor sit amet, consectetur adipiscing elit, sed do eiusmod
Digicel+ Help & Support FAQ's
We are here to help! Visit our Help Center to learn more.
What are the benefits of a Fibre network?
Our fibre optic technology will make your online world faster, seamless and more reliable than ever before. What that means for you:
• Celebrate reliable and better internet speeds, rain or shine
• Lightning-fast downloads with fibre speeds up to 200Mbps
• Amazingly-fast uploads with fibre speeds up to 100 Mbps
• Stream your favourite TV shows with less buffering
• Get everyone online at the same time without slowing down
What is LTE Home service?
Digicel's LTE Home service uses a new TDD-LTE network to deliver high-speed wireless internet to your home via a router.
The service is designed for customers who live within the coverage area and who have limited or no access to other reliable high-speed internet options.
Reliable high-speed home internet
Download speeds of up to 10 Mbps
• Upload speeds of up to 2 Mbps
• Wi-Fi connections for up to 5 devices (tablets, smartphones, laptops, gaming consoles, etc.)
Request Service for Your Home Today
Fill out the form below and one of our friendly customer reps will contact you